With a combined 50+ years of clinical research, Dr. Justiz, Dr. Baker, and Kelly Calistri founded Aqualane Clinical Research in 2022. Since 2005, Dr. Justiz and Dr. Baker have been conducting studies together as Principal Investigators for their private practice. With a shared vision for a larger research institute, Kelly, a long-time consultant to the doctors, joined them in forming Aqualane Clinical Research.
At Aqualane, we always put our patients first.
We promise to educate each potential participant and their family members on all options available to them and to support them in their decision-making process. Striving to make clinical trials a practical healthcare option, we provide a comfortable, caring and compassionate environment.
Our founders are passionate about their contributions to the advancement of medicine and to the opportunities they provide to people searching for new treatment options. With expertise and experience in research and the central nervous system, you can trust our team of neurologists and researchers to provide the best possible opportunity for you or your loved one.
Dr. William A. Justiz, MD

Medical Director, Principal Investigator
Dr. William Justiz completed his undergraduate degree at Northwestern University before receiving his medical degree from the University of Miami School of Medicine. He is board certified in neurology and is a certified physician investigator through the Association of Clinical Research Professionals.

With over 20 years of research experience and specialization in degenerative diseases of the nervous system, he has been in continuous practice in Naples, Florida since 1999. He is a founding member of the clinical research program that has grown into Aqualane Clinical Research.

Community outreach and service is one of the core values of Dr. Justiz and Aqualane Clinical Research. Dr. Justiz demonstrates this with his 23-year commitment to providing low-cost or free services to epilepsy patients through Epilepsy Services of Southwest Florida. In addition, he has delivered a free educational lecture series every month on all Alzheimer's topics since 2015 through the Alzheimer's Support network.
Kelly E. Calistri, B.A.

Chief Operating Officer, Site Director
Kelly is a native Floridian, born and raised in Central Florida. Shortly before graduating from The University of Tennessee, Knoxville, with a degree in Psychology, she was introduced to the research industry. Almost immediately, she knew this would be her career path.

While working at a privately owned clinical research site in Atlanta, she gained experience in several areas, including patient intake, research coordinator, regulatory, and cognitive rater. Working for years across many therapeutic areas, her passion for research grew. With this experience, Kelly received promotions into management roles. Her responsibilities included conducting training, oversight of a staff of 50 people, managing Phase I studies in a unit with 40 beds, and being responsible for business development by attending industry meetings to represent her site. Before opening Aqualane Clinical Research in 2022, she used her expertise and experience to build two startup research sites. Building a team of experts who excel in their field is among her strongest qualities. Her passion for people and the advancement of medicine drives her daily to continue learning. Kelly has seen how new medications can change the lives of people around her.

In her free time, you can find Kelly and her husband, who are high school sweethearts, at local baseball fields cheering on their two sons. They are a close family who loves to travel and spend time together. Kelly also loves reading business and personal development books.
Dr. Matthew J. Baker, MD

Principal Investigator
Dr. Baker is a board-certified neurologist practicing for over 20 years. He has been a Principal Investigator in numerous clinical trials, many of which have resulted in regulatory approval of novel therapeutics across the spectrum of neurologic disease, both here and abroad. His primary areas of interest include Neuroimmunology, migraine, and the Neurobehavioral manifestations of disease. Dr. Baker is a nationally recognized educator and lecturer. He enjoys teaching colleagues, medical residents and patients on such topics as Multiple Sclerosis and Myasthenia Gravis. In his spare time, he loves riding roller coasters with this family and playing with his two dogs.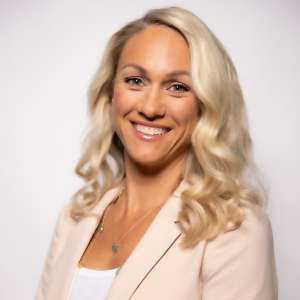 Micaela M. Acres, RN, BSN
Infusion Nurse
Jacqueline E. Brady
Community Outreach Coordinator/ Reception
Elena Capron, B.S.
Social Media Coordinator
Brittany N. Cordero, B.S.
Regulatory Coordinator/ Administrative Support
Catherine Cruikshank-Eberle, Ph.D.
Director of Education
Jessica M. D'Entremont, RN, MPH, BSN
Infusion Nurse
Laura Gold, B.S.
Finance Coordinator
Daniela Gonzalez
Lead Clinical Research Coordinator
Karma L. Hamilton, M.S.
Lead Rater
Bethany J.M. Henchesmoore, MBA
Clinical Research Coordinator
Jennifer Jimenez-Perez, RN, BSN
Infusion Nurse
Carmen L. Ojeda, M.S.
Quality Assurance / Quality Control
Michelle A. O'Neill, M.S.
Rater